Due Date:
8/23/2021
Subject:
Art
Here is a PowerPoint with my class expectations
---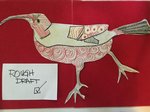 Due Date:
8/1/2020
Subject:
Art
Yarn Paintings
Art History Reading and Questions
Demonstration video: creating a stylized animal- rough draft
Demonstration video: working on the yarn painting
Demonstration video:mat artwork
Demonstration video: extension weaving
Demonstration video: extension Bill Reid -stylized animal drawing
---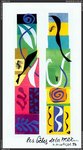 Due Date:
6/29/2020
Subject:
Art
click here for an overview of concepts to be learned in the 2017-2018 6th grade elements and principles unit
---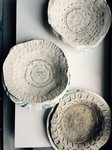 Due Date:
9/22/2017
Subject:
Art
Clay in the first days of school?!...
My 3D classes got right into sculpture using clay to create real textures in a patterned bowl.
Students had the challenge of using everyday objects like pencils as tools to make textural marks in the clay organized in a design.
We talked about textures and students started by forming a bowl from a clay slab.
Students then used creative problem solving skills to design at least five different textures in the clay.
The students finished the bowl sculpture component by smoothing the edges.
The bowls will be fired in the kiln and students will use an analogous color scheme of glazes to complete the sculpture.
---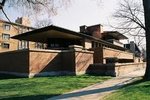 Due Date:
10/2/2016
Subject:
Art
Students will look at examples of organic architecture including buildings designed by Frank Lloyd Wright.
Using the skills from the loww relief cardboard lesson preceding this lesson, students will now refine sculptural skills to depict a building and a background in low relief that suggest the major principles of organic architecture,
click here for the student learning plan
click here for the requirements sheet and rubric
---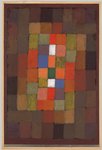 Due Date:
9/25/2016
Subject:
Art
2D:
Non-Objective Painting:
Students will…
1. Understand the difference between realistic, abstract, and non-objective art
2. Understand a variety of ways to create marks using paint and the possible resulting expressive properties
3. Understand how to plan and create a work of art to effectively communicate artist's intent of formalist properties or expressive properties
4. Understand how to respond to a work of art using the Feldman model of describe, analyze, interpret, and judge
click here to view the PowerPoint
click here to download the technique sampler
click here to download the planning worksheet
click here to download the student learning guide and project rubric
click here for peer critique form
click here for art history activity
---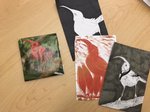 Due Date:
9/11/2016
Subject:
Art
25 Variations on a theme:
Purpose:
o I can apply strategies to generate creative ideas for artistic work. I can practice and develop ways to think creatively.
o I can apply criteria to my artwork and identify areas to improve and refine my work.
o I can persist in developing skills with various media, techniques, and approaches to creating art.
Requirements:
Step 1: Select a realistic subject image-landscape, architecture, plant, animal, person, shoe - the image must have some complexity and detail within the visual and should be large enough and in focus so that you can see the details- the image needs to be printed- is a jpeg format is selected- it can be emailed or airdropped to me so that I can print the image for you.
Step 2: Brainstorm as many different approaches as you can think of-compare lists with peers at your table. You can continue to add and change this list throughout the year.
Step 3: Make your first variation. It must focus on your subject as the main part of the artwork. It has to be 2D. Artwork must be on a 4" x6" index card labeled on the back with your name, the date, and which # this card is within your series.
Step 4: Keep completed index cards in your folder in the classroom and organize so you are able to turn them in for grade checks or look at the series to answer self-reflection questions.
Step 5: Continue making changes to your own list of twenty five variations. Try to personalize your choices to reflect areas/techniques/approaches that you are trying to refine.
Step 6: Continue making variations.
Step 7: Self-assess at requested checkpoints and complete self-reflection questions.
If there is an art supply/technique/process you do not see available in the room, but would like to try- please speak with me and I will do my best to get you the supplies you need.
---