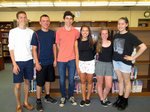 Scholar Leader Nominees Frank, Sbabo, Tubis, Uyeki, Kirby and Sandwell
The Connecticut Association of Schools (CAS) established the Scholar-Leader Banquet in 1985 to give public recognition to one boy and one girl from each middle level school in Connecticut who have distinguished themselves in scholarship and leadership in school and the community.
The academic standard established by CAS is based on a cumulative middle school average of at least 85% or "B" or 3.0 on a 4 point scale or the equivalent standard of excellence for schools that do not use any of these scales. For leadership, schools are welcome to create their own standards but are encouraged to consider active participation in school and community organizations, citizenship and positive influence on school climate, dependability, responsibility, character, and integrity.
This year's North Haven Middle School nominees are:

Quinn Kirby
Sarina Sandwell
Jackson Frank
Benjamin Sbabo
This year's Scholar Leaders for NHMS are:
Annie Uyeki
Jackson Tubis
Annie and Jackson, along with their parents and middle school representatives, will attend a ceremony in May at the Aqua Turf to honor all of the Scholar Leaders in Connecticut. Congratulations to our all of the NHMS Scholar Leader nominees!