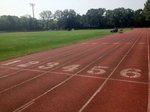 zoom team
Welcome to Fall 2017!
ZoomTeam is starting......
Zoom Team is a Running/Walking group which meets after school one day a week - usually on Mondays- to help promote a healthy lifestyle and to encourage physical fitness to all involved. This group is open to both faculty, students, and parents!
Please check the daily announcements for times as it may change from week to week or with impending weather.
Click the below link to get registration information for an upcoming 6th annual North Haven Rotary Club and Tessa Narie Memorial 5K race or 1 mile walk at North Haven High School on Sunday, November 12th - registration starts at 8 am and the race and walk begin at 9:30 am.
http://www.active.com/north-haven-ct/running/distance-running-races/the-6th-annual-north-haven-rotary-and-tessa-marie-memorial-5k-and-fun-run-2017?cmp=39-34-196612&ltcmp=254301&ltclickid=09_80143403_c3bdf554-77ca-4763-9711-c0f82185645c&cmp=39-34