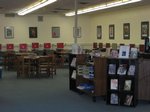 NHMS Library
Library Hours
Monday, Wednesday and Friday 7:15am - 2:30 pm; Tuesday and Thursday 7:15 am - 3:00 pm
Mission Statement
The mission of the North Haven library media program is to ensure that students and staff are effective and creative users of ideas, information and technology. This mission is accomplished:
By providing intellectual and physical access to materials in all formats.
By providing instruction to foster competence and stimulate interest in reading, viewing and using all information formats.
By collaborating with other educators to design learning strategies to meet the curriculum standards and the needs of individual students.
Adapted from: Information Power: Building Partnerships for Learning. American Association of School Librarians, 1998.
Library Media Department Goals
As a result of education in the library media program, students in grades Kindergarten through twelfth will:
Be independent, competent and confident users of technology.

Communicate information and ideas.

Locate, use, synthesize and evaluate information effectively, efficiently and economically.

Develop a love of reading and literature.

Practice ethical behavior with regard to information and information technology.

Become lifelong learners.

Circulation Policies
Students are encouraged to borrow library materials for research or pleasure reading and are expected to return all borrowed materials in good condition on or before the due date. Students may check out up to three items at a time. Books circulate for a period of four weeks. Renewals are allowed providing there are no reserves pending on the title. Magazines circulate for one week only. If a student has an overdue item they will not be able to borrow any additional materials until the item is returned. Students may continue to use library materials in the library setting.
Library/Media Center Behavior Expectations
Be Respectful
Be an active listener
Speak softly/use appropriate language
Respect school and personal property
Be considerate of others that are working
Share resources
Be Responsible
Bring necessary materials
Return books promptly
Use computers for academic purposes
Be Safe
Use furniture, materials, and technology appropriatel
Respect the personal space of others